Places to go, ways to help, and items you might like to know about!
---
Rescue Pup has opened a new thrift store, Pet Pleasers,
located at
17928 Bothell-Everett Hwy. in Bothell, 98102
(at the corner of 180th behind 7-11). All proceeds go to the animals which have special needs.
---
Feed An Animal in Need for Free
The Animal Rescue site is having trouble getting enough people to click on it daily to meet their quota of getting free food donated every day to abused and neglected animals. Their corporate sponsors/advertisers use the number of daily visits to donate food to the animals in exchange for advertising. You can help by visiting their site at
www.theanimalrescuesite.com
and click on "feed an animal in need."
---
Adopt a Swan
through the Trumpeter Swan Society,
www.swansociety.org
or call (425) 787-0258.
---
Reading with Rover!
Come experience this great program involving kids, dogs and literacy. Reading With Rover is a community based program in King County. In the "Rover" program, children with reading difficulties actually read stories to a dog and the dog loves to listen! A child who may be hesitant to read to his peers is typically less stressed when reading to a dog and the dog is never judgemental of the child's reading ability.
For dates and locations visit
www.readingwithrover.org
---
Get a Reading with Kim Miller

Kim Miller is a psychic medium and animal intuitive who does psychic readings for you and your pets and is a guest on Martha's show. For more information visit
www.kimmillermedium.com
or e-mail Kim at
kimmillermedium@comcast.net
For information about private readings for yourself or your animal friend call (206) 353-5600.
---
Check out New Spirit Journal--and read Martha's column!


New Spirit Journal, the Pacific Northwest's newest inspirational newspaper, is a community publication dedicated to self-empowerment, joyful co-creation, and thoughful earth stewardship, and is available at local businesses. Be sure to check out Martha's monthly column in New Spirit Journal! For more information visit the New Spirit Journal website at
www.newspiritjournal.com.
---
Help Encourage AHVMA Plechner Research
Hopefully the AHVMA will be funding research on Dr. Al Plechner's discovery. They accept targeted donations. Please help us get the ball rolling by sending what you can, even if it is only $1. Be sure to say the money is to be used only for research related to Dr. Plechner's enocrine/immune imbalance discovery.
American Holistic Veterinary Medical Assn.
2218 Old Emmorton Road, Bel Air, MD 21015 , (410) 569-0795
---
Seattle Animal Shelter offers older pets FREE to seniors and adults with disabilities
The Seattle Animal Shelter is proud to offer Golden Pets for Golden Years, a program available to anyone holding the city of Seattle's Gold Card or FLASH Card. Cardholders are eligible to adopt a dog or cat aged six years or older, free of charge, and receive a 50% discount on a pet license.
For more information about the Gold Card and FLASH Card. programs, call the Mayor's Office for Senior Citizens at (206) 684-0500.
To talk with an adoption counselor or preview cats and dogs available for adoption, the Seattle Animal Shelter is open Tuesday through Saturday, noon to 6 p.m., and Sunday, noon to 4 p.m. For more information, please call (206) 386-PETS (7387). You may also preview animals currently available for adoption at
www.seattleanimalshelter.org
---
Seattle Animal Shelter offers free spay and neuters for parent animals of any litter brought into the shelter


As part of an ongoing program, anyone who brings a litter of puppies or kittens to the Seattle Animal Shelter is eligible to have the parent animal spayed or neutered for free. This free offer is made possible by donations to the citys Pet Population Control Fund. The fund also helps pay for spaying and neutering pets owned by low-income, elderly, disabled, homeless or other persons who would otherwise not be able to afford the cost of sterilizing their pets.
Although the Seattle Animal Shelter will not turn away any litter, kittens really need to stay with their mothers and littermates for at least 10 weeks. People tend to separate litters from their mothers too early, like at five to seven weeks. This early separation can create behavior problems throughout a cat's life.
This free offer will discourage people from abandoning unwanted litters of puppies and kittens. If these litters are brought to the shelter, staff has the opportunity to evaluate the animals health, administer vaccinations, and have them adopted by qualified owners, thus improving the quality of life for these young animals. As long as the public continues to support the Pet Population Control Fund, this free offer will continue indefinitely.
For more information about this free spay and neuter program and other Seattle Animal Shelter services, call (206)386-PETS(7387) or visit
www.seattleanimalshelter.org
---
Buy some coffee and help animals
Animals First Foundation
and Seattle-based company, Pure Vida, have teamed up to create two special coffee blends to benefit Kindred Souls Animal Foundation and the farmers who harvest the beans. These blends are organic, shade grown, fair trade, and are made from 100% Arabica beans. For more information or to make a purchase, click
here
.


The Humane Society for Seattle/King Count
y is pleased to offer an ultra-fresh coffee with a rich, deeply satisfying flavor. And $2 from every pound generously supports programs like the Pet Food Bank that helps people in need by donating pet food. Selecting Humane Society coffee can make a big difference when you use it each day, as much as $1,000 from the office that brews just two pounds (80 cups) per day, or $120 a year from use in your home. For more information click
here
---
Humane Society Dog Training Classes
The Humane Society for Seattle/King County is accepting enrollments for its dog training classes for the upcoming sessions. Class schedules include weekday evenings and weekend afternoons. All classes are taught by accredited instructors and incorporate positive and gentle training methods. For more information, including complete descriptions of each class, please call (425) 649-0080 for a dog-training brochure or visit
www.seattlehumane.org
---
King County Parks benefit from "Support Parks" Stamps
Postage stamps depicting the King County Parks systems unique settings and popular activities can now be purchased online, with a good part of the proceeds going to preserve and protect one of the nation's best parks systems. Stamps can be purchased by clicking on the "Support Parks!" icon on the King County Parks website at
www.zazzle.com/kcparks
---
Stop Canada's Massive Seal Hunt!
For more information visit
www.protectseals.org
---
Seattle Animal Shelter continues aggressive pet licensing campaign.
More emphasis patrols in parks & off-leash areas with mandatory $125 citations for owners of unlicensed pets
The Seattle Animal Shelter now has more officers patrolling Seattle parks, off-leash areas and neighborhoods to increase compliance with the city's pet licensing laws. Without exception, owners of unlicensed pets will receive a $125 "failure to license" citation for each animal without a current license, so pet owners are encouraged to license or renew expired licenses.
The costs for pet licenses are as follows: Dog: one-year: $40 ($20 if spayed or neutered); two-year: $62 ($30 if spayed or neutered). Cat: one-year: $25 ($15 if spayed or neutered); two-year: $40 ($22 if spayed or neutered)
If a pet shows up at the shelter wearing its license, the owner is notified. If animal control officers find a licensed pet in the field, they will return it to its owner instead of taking it to the shelter. Experience shows that often an injured animal wearing a license is more likely to receive veterinary care if the owner is not around.
The Seattle Animal Shelter is located at 2061 15th Ave. W., approximately one mile south of the Ballard Bridge. To purchase a Seattle pet license, visit the Seattle Animal Shelter or call (206) 386-4262 for the location of a neighborhood service center or veterinarian that sells licenses in your area. The Seattle pet licensing office is open noon to 6 p.m. every day.
You can also purchase and renew pet licenses online at:
https://dea.seattle.gov/pets/GettingStarted.aspx
For more information about pet licensing, call (206) 386-PETS (7387) or visit
www.seattleanimalshelter.org
---
Web searches benefit Wolftown

GoodSearch.com is a new search engine that donates half its revenue, about a penny per search, to the charities its users designate. You use it just as you would any search engine, and it's powered by Yahoo!, so you get great results.
Just go to
www.goodsearch.com
and be sure to enter Wolftown as the charity you want to support.
---
Tails of Devotion raises funds for animal welfare
Tails of Devotion: A Look at the Bond Between People and Their Pets, by Emily Scott Pottruck, is a coffee table book featuring photographs of people (from celebrities to children) and their pets. 100% of book proceeds donated to animal welfare non-profits across the country.
Log onto
www.tailsofdevotion.com
to find a number of outlets selling the book. The retail price is $29.95. The proceeds of each book sold are donated to charity.
Animal Welfare groups across the country are also requesting and receiving donated copies of the book. The books can be used and sold at their discretion for a price of their choice.
---
Martha recommends this website for pet food recall info: www.itchmo.com
---
Humane Society establishes pet food information line.
The Humane Society of the United States has established a pet food safety information line with the most up-to-the-minute pet food recall information.
By calling 1-800-Humane-1, callers will hear a personal message from HSUS President and CEO Wayne Pacelle, and can then choose from among three areas: updated recall information on pet food and treats; tips on what you can do to protect your pets; and how you can help. Concerned pet guardians can also visit The HSUS online pet food safety center at
www.hsus.org/petfoodsafety
---
You can help fund a study to see if dogs are being overvaccinated


Send donations to The Rabies Challenge fund at Rabies Challenge Fund, c/o Hemopet, 11330 Markon Drive, Garden Grove, CA 92841. For more information on The Rabies Challenge Fund, visit
RabiesChallengeFund.org
.
---
Info for Homeowners and Renters with to prepare for an emergency

If you have pets,
this page
is a great resource to help you prepare for an emergency. Topics include: what to have in your emergency supply kit, what to do during a disaster, what to do after a disaster, finding missing pets, and much more.
---
Learn about how to prepare yourself and your pets in case of emergency.
The likelihood that you and your animals will survive an emergency such as a fire or flood, tornado or terrorist attack depends largely on emergency planning done today. Some of the things you can do to prepare for the unexpected, such as assembling an animal emergency supply kit and developing a pet care buddy system, are the same for any emergency. For more information visit the Department of Homeland Security's website at
www.ready.gov/america/getakit/pets.html
---
Be prepared in a disaster


Our companion animals are family members who make our lives better in countless ways. They also depend on us for care and safety. There are some important ways you can prepare for your pets' protection during a disaster.
"The best way to protect your family members from the effects of a disaster is to have a plan that includes everyone, including your furry or feathered family members," says Brenda Barnette, Chief Executive Officer for the Seattle Humane Society. "If a disaster means you must evacuate your home, take your companion animals, too. Leaving pets behind is not safe."
You Need a Safe Place to Take Your Pets
Red Cross disaster shelters do not accept pets unless they are service animals assisting people with disabilities, so have a plan for evacuating your pets safely. Planning should include: Know how to get to the Seattle Humane Society (a.k.a. the Humane Society for Seattle / King County) where free shelter and care for your pet will be provided during a disaster. Contact nearby hotels to learn about their policies on accepting pets during an emergency. Be sure to ask about restrictions on number, size and species. Make reciprocal agreements with friends, relatives and neighbors to shelter companion animals. Keep an updated list of boarding kennels and veterinary clinics that could shelter animals in an emergency.
Make a Pet Disaster Supply Kit
When you are stocking up on emergency supplies for your family, keep your pets in mind, too. Items for your kit should include: Medications, medical records (in a waterproof container) and a first aid kit; Sturdy leashes, harnesses, and/or carriers to transport your pets safely and ensure that they can't get loose; current photos of your pets in case they get lost; food, water, bowls, cat litter/pan, and can opener; information on feeding schedules, medical conditions, behavior problems, and the name and number of your veterinarian in case you have to foster or board your pets; pet bed and toys, if easily transportable.
It's never too early to protect you and your loved ones by developing a disaster plan, so start today!
---
Help Save Wildlife with the Karelian Bear Dog Program through Wind River Bear Institute.
Send donations to WRBI, PO Box 1299, Florence. MT 59833 or call (406) 273-4899 or visit
www.beardogs.org
---
Volunteer with your Pet!


Science proves it – animals have healing powers. Simply by interacting with an animal a person's blood pressure can be reduced, stress and anxiety levels lowered, and endorphins released which help a person feel better. This can be especially beneficial for hospitalized and hospice patients, seniors in nursing homes and so many others.
Delta Society's Pet Partners program trains, evaluates and registers teams (a human handler and their pet) to volunteer by taking their pet (dog, cat, rabbit, etc.) to hospitals, assisted living centers, hospice centers, schools, and many other places where people could benefit from the compassion and joy of an animal visit.
To learn more visit Delta Society's website:
www.deltasociety.org
and click on Volunteer. The program at Overlake Hospital is growing, if you are interested in potentially volunteering at this location, please email
AskDiane@aol.com
.
---
Help military families by fostering their pets!


The Military pets foster project helps match military personnel with foster homes who will board and care for pets why they are away. For more information or to volunteer, visit
NetPets.org
.
---
With home foreclosures on the rise, pets too need new homes. Instead of Abandoning, Think 'Re-Homing'
As news sweeps the nation of family pets being found abandoned in foreclosed homes, people facing hard times can take heart that there is a better option for their pets. The Seattle Humane Society will care for your pets when you no longer can, and give them as long as it takes to find them a new family and a home of their own. If you are unable to keep your pets, call the Seattle Humane Society at (425) 649-7561 to schedule an appointment with the Admissions Department.
The Admissions Department is open Wednesday thru Friday, 12pm – 6pm, and Saturday thru Sunday, 12pm – 5pm. For a detailed description of the Seattle Humane Society's admissions process, visit
www.seattlehumane.org/services.shtml
.
The Seattle Humane Society is in Bellevue, at 13212 SE Eastgate Way. For directions and more information, visit
www.seattlehumane.org
or call (425) 641-0080
---
Seattle Animal Shelter seeks donations to help orphaned animals


To help nurture these canines, the shelter is seeking donations of interactive treat toys, training collars, leashes and leads, and interactive plush dog toys. For a detailed wish list of approved items, please visit
www.seattleanimalshelter.org
. Donated items will be distributed among volunteers in the shelter's foster-care program, whose sole mission is to rehabilitate sick, injured or other animals who might not otherwise be viable candidates for adoption. Volunteers take animals into their homes and provide temporary care until the animals are ready for adoption. The shelter also encourages the public to support the Help the Animals Fund, which pays for veterinary care for sick and injured foster animals.
---
Feed hungry dogs, play Bow Wow Trivia.

Help 12-year-old Mimi Ashland from Bend, Oregon feed hungry dogs and cats. Go to
www.freekibble.com
everyday to play Bow Wow Trivia and donate free kibble!
---
Help for Horse Owners


To help horse owners with a shaky economy, King County Animal Care and Control has created a new Web page that provides contact information on horse care, horse rescue organizations and laws relating to horses in King County:
http://www.kingcounty.gov/safety/AnimalServices/horses.aspx
---
Spirit-Horse Food Network,
a food bank for livestock in need. To donate or ask for assistance e-mail:
leslie.bingham@omax.com
---
Plants can be deadly for cats


Within only a few hours of ingesting toxic plant material, a cat may vomit, become lethargic or lose its appetite. These signs continue and worsen as kidney damage progresses. Without prompt and proper treatment by a veterinarian, a cat may develop kidney failure in approximately 36 to 72 hours. Cat owners should remove toxic plants from their cat's access. To help educate cat owners and veterinarians about the dangers of plants, the ASPCA Animal Poison Control Center and Cat Fanciers' Association have developed online materials To download the materials, visit
here
or
here
.
---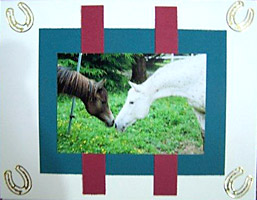 Hope For Horses is in need of some help!


Due to the economy, people are not donating as they have in the past. In order to help raise funds, greeting cards have been created to help feed the horses.
They come in packs of 3 for $10
. One pack buys one bale of hay which feeds a horse for one day.
The pictures on the cards are all horses that have been rescued by Hope For Horses. Please help feed the horses and show your support by purchasing some of these greeting cards today. Email
info@hopeforhorses.net
to place your order.
Visit Hope for Horses at
www.hopeforhorses.net
---